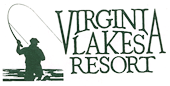 Call or write
for reservations.
Virginia Lakes Resort
HC 62 BOX 1065
BRIDGEPORT CA
93517-9602
760-647-6484 Tel/Fax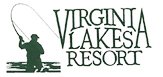 History of Virginia Lakes Resort


INTRODUCTION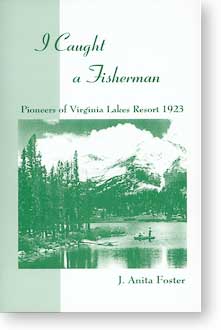 I Caught a Fisherman
by J. Anita Foster
293 pages



This is the story of the physical, financial and emotional struggles of a couple who turned their backs on the Hollywood studios, to pit themselves against the roadless wilderness of the High Sierra, and thereby found happiness, security and personal achievement. The story relates experiences and incidents that became the lot of a city girl, who became a pawn of fish, and fish became the thing that dominated her life.

Some of the things that happened at the resort built by the couple, to the late Coach Howard Jones, Fred MacMurray, Otto Kruger, the late Lon Chaney, Sr. and Dr. Lee de Forest and also many amusing happenings to other guests, are told in this book.

Most people think of California as being a state of sunshine, balmy weather and orange groves. The fact that there are towns and places where the thermometer hits forty degrees below in the state, sounds a little exaggerated, but the country where this city girl and her husband had decided to start a summer resort, in the year 1924, was almost as wild and woolly and cold as the interior of Alaska. Mono County is the fifth largest county in the state of California in area, but is sparsely settled. Nearly one third of the 3,000 people that made up its population were Indians of the Paiute tribe. It was practically unknown as a vacationland. The roads were all dirt, and many of them were just two winding tracks. And yet all this was in California.

The High Sierra contains 5,000 gem-set mountain lakes, 2,000 miles of fishing streams and over 50 mountain passes. It is a land of towering peaks, glacial lakes and Alpine meadows--a vast and varied empire of the wild.

In this beautiful but austere region, Anita Foster and her husband, "Walt," pioneered their high mountain resort.

Anita and Walt's experience in the thirty years in which they developed a resort in the High Sierra from bare land to a lovely resort, is packed full of trials and tribulation and drama. From the joys and fun came sheer satisfaction of outdoor life in a magnificent setting, and the friendships of wonderful people. This book is the story of those experiences.